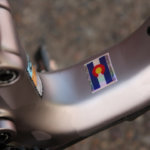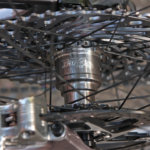 About the Build
It would be an understatement to say that a lot of thought/ effort went into the building of this custom bike. It all started several years ago when the rider realized how incredible CBF suspesion was aboard his Canfield Balance. While the burly aluminum frame may have been on the heavier side, it was very quickly realized that the infamous CBF (Canfield Brothers Formula) suspension design lived up to the hype. Earlier this year, the rider and I headed to Arizona to test a new brand that had licensed CBF and utilized carbon to keep the frame weight down. In the following months we both spent a lot of time thinking about how incredible the Rascal was and knew we each had to have one.
While waiting for the frame to arrive we bounced back ideas on what parts to go with. The rider wanted to try some new components that were making waves in the sea of mountain bike parts. Onyx hubs were one of the parts he had been wanting to try due to their instant engagement and complete silence. The wheels were handbuilt in the shop with Sapim D light spokes up to NOBL TR37 carbon rims. NOBL really have done their homework when it comes to their rim design. Rear/front specific rims provide the ultimate combination of stiffness and compliance. They also have a really bad ass shape to them!
TRP brakes were also uncharted waters, but great reports from other riders gave him the confidence to give them a go! The new Pike Ultimate was new as well, but after some tuning it is matching the performance of the magic carpet like rear end. The Pike with RC2 damper has high/low speed adjustment and can be tuned to fit any riders preferences thanks to volume spacers. For the dropper post it was an easy choice, the Bike Yoke Revive had provided countless miles form a previous bike and we decided to transfer it over. Sram's Xo1 eagle drivetrain was another usual suspect for this rider as it doesn't get much better when it comes to shifting.
Now for the last and coolest custom touch… the frame protection/fender from Ground keeper fenders! It only made sense to wrap this bike in Aspens as Revel is based out of Colorado. What makes this even cooler is the photo was taken a few years ago by the rider on the Colorado trail, not that far away from their Carbondale office. After several rides on home turf, this bike has been given an A+ rating. We can only hope this bike gets to make it back to where this photo was taken!
Build Specs
Frame Revel Rascal
Fork Rockshox Pike Ultimate
Headset Cane Creek
Stem Industry Nine A318
Handlebars Deity
Handlebar Tape
Shifters
Brakes TRP
Seatpost Bike Yoke revive
Saddle Fabric scoop
Front Derailleur
Rear Derailleur SRAM Xo1
Bottom Braket Sram Dub
Cranks Truvativ descendant
Pedals Shimano XT trail
Chain SRAM Xo1
Cassette Sram Xo1
Wheels Onyx laced to NOBL TR37
Tires MAXXIS Dissector/ Assegai
Extras