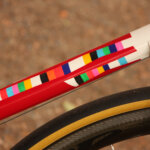 About the Build
The Duende is a little closer to a "traditional" frame than our other models. But as shown here, it's also available in a CX configuration for cyclocross riders.
While not quite as stiff as the Round, Mxxxxxo or Responsorium, Duende is well suited for someone seeking a comfortable all-day bike that does everything well. The tubing – Columbus ZONA – is still "oversized", but with its traditional, tapering rear stays and more conventional dropouts, Duende's aesthetic is more classic than esoteric.
'Duende' refers to a heightened state of emotion typically associated with flamenco. However, it's an energy that appears whenever someone is doing something they love, like cycling.
Build Specs
Frame Pegoretti Duende
Fork Pegoretti
Headset Chris King
Stem FSA
Handlebars FSA
Handlebar Tape Fizik
Shifters
Brakes Shimano Durace
Seatpost Thompson
Saddle
Front Derailleur Shimano Durace
Rear Derailleur Shimano Durace
Bottom Braket Chris King
Cranks Shimano Durace
Pedals Shimano Durace
Chain Shimano Durace
Cassette Shimano Durace
Wheels Zipp 303 w/ DT 240
Tires Veloflex
Extras