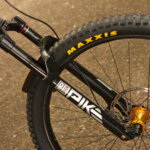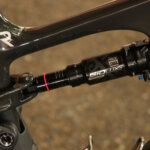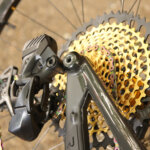 About the Build
When it's time to move uphill like no other but descend at warp speed look no further than the Revel Ranger. This bike has been proven over and over by local rippers and is quickly becoming a common sight on local trails. The Revel bike stands out from the rest due to it's highly efficient CBF suspension which provides an insane amount of traction along with very high suspension activity even under braking forces. This gives the bike a calming effect when flying through the rough stuff and holding a line so good you will find new confidence once thought unimaginable.
This custom build came together with some of the best parts in the business. It will see some big days in the mountains of North Carolina in the future, for that reason we used some companies that produce their parts in that region. We chose the 130mm Pike for over the standard spec'd 120mm Sid to give a little more stability when descending the long trails in Pisgah, NC. We handbuilt the wheelset which is made up of tried and true Induystry Nine Hydra hubs for their reliability. We Are One's new Convergence Sector rim was chosen for it's insane amount of strength along with providing some of the best chatter absorption in the game. Another NC produced part, the Cane Creek EE Wing titanium cranks have the highest strength to weight ration out there and they look just simply stunning.
Building the perfect bike to meet your needs is one of our specialties and something we are truly passionate about. Give us a shot next time your looking for your dream bike!
Build Specs
Frame Revel Ranger
Fork Rockshox Pike Ultimate
Headset Canecreek 40
Stem Industry Nine A35
Handlebars One Up carbon
Handlebar Tape
Shifters
Brakes SRAM Guide RS
Seatpost Bike Yoke Revive
Saddle WTB Volt
Front Derailleur
Rear Derailleur Sram GX AXS
Bottom Braket Canecreek Hellbender 70
Cranks Canecreek EE Wings
Pedals Tenet
Chain SRAM XX1 rainbow
Cassette SRAM XX1 gold
Wheels Industry Nine Hydra hubs laced to We Are One Sector rims w/ Sapim spokes
Tires Maxxis rekon/ dissector
Extras