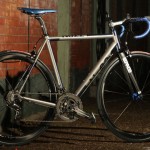 About the Build
We can't say it enough, we love the custom builds and actions speak louder than words. The opportunity to assist our customers in building up their dream bikes is such a spectacular experience we can never get enough of it. The Great Divide from No. 22 provided one such experience and the outcome is mind blowing to say the least. Given you're searching the ole' memory banks for some representation to who or what No. 22 is, then you're in the same boat we were not too long ago. If you can remember back to your school day science classes you'll quickly notice Titanium listed at 22 on the periodic table and it is this designation where the company comes by their name. Bryce and Mike, founders of No. 22, fell in love with the ride quality of titanium and rightfully so; in our opinion, it is amazing. This love, then matched with the fine details of fit, finish, tubing selection and specifically considered geometries, a great product is born. No. 22 frames are handmade in the United States by veteran builders who back their work up with a 10 year warranty and in their own words, "carry this meticulous approach through to our clean-lined and contemporary finishes that showcase the beauty of raw and anodized titanium." We couldn't agree more.
This specific bike having been outfitted with an Enve 2.0 carbon fork, bars, stem and seat post, Enve carbon clincher rims laced to Chris King ceramic R45 hubs, and finally what some may consider the coup d'etat of the build, the 2015 Campagnolo Super Record grupo. This is no doubt a dream build, gone full tilt boogie and we couldn't be prouder to offer it up for your eyes and our customers enjoyment. We of course could do the same for you as well.
If you enjoy the looks of this bike and others like it, keep in mind that the North American Handmade Bicycle Show (NAHBS)will be showcasing many more beautiful builds and fully customized iterations of such on display with the actual frame builders in attendance at the Kentucky International Convention Center, March 6-8, 2015. With a building full of great bicycles and great people, it's hard to go wrong.
Build Specs
Frame No.22 Ti
Fork Enve 2.0 tapered
Headset Chris king Inset 7 navy
Stem Enve 120 mm
Handlebars Enve road compact 42cm
Handlebar Tape Fizik Microtel metallic blue
Shifters
Brakes Campagnolo super record
Seatpost Enve 31.6
Saddle Fizik Airone kium rail Metallic blue
Front Derailleur Campagnolo super record
Rear Derailleur Campagnolo super record
Bottom Braket Campagnolo super record
Cranks Campagnolo super record 172.5 50/34
Pedals Shimano dura 9000
Chain Campagnolo super record
Cassette Campagnolo super record 11-27
Wheels Chris King r45 ceramic laced Sapim cx-ray to enve
Tires Victtoria corsa cx 25
Extras