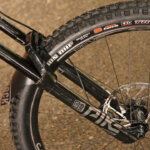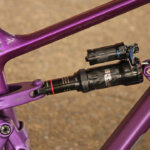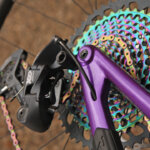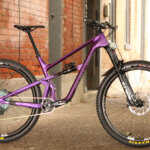 About the Build
Check out this custom Revel mountain bike fresh out of the oven at the custom bike department!!!
Have you ever wanted a full custom mountain bike but can't decide what parts to choose? We've saved you some time and made those tough decisions for you with this incredible Revel Rascal build. We selected parts that work well because we use them ourselves and know that they stand the test of time. The goal was to keep the budget somewhat within reason, but there are some bling parts in there for sure.
Let's start with the heart of the bike… by now you've heard us talk up the highly efficient CBF suspension. Revel chose this suspension system as it's the most active under braking forces of any design out there. It's unreal how this bike hugs the trail giving you the confidence to go faster and faster. A ton of fun on the down of course, but you'll find it just as enjoyable on the climbs. Conquer the toughest climbs imaginable with the rascal, each pedal stroke magically propels you forward with endless traction!
The biggest highlight of this bike would easily be the Revel x Industry Nine RW30 carbon wheelset. I9 hubs provide near instant engagement making tech sections even easier and the carbon RW30 rims deaden trail chatter exceptionally well. The rims also come with a lifetime warranty against defects. Suspenion duties are covered by Rockshox. You'll find the ultimate series Pike fork and Super Deluxe shock to pair very well with the CBF kinematics. Both are easily tuneable and easy to setup.
For the drivetrain we chose a SRAM GX shifter and derailleur for reliability/ cost effectiveness and paired it with the stellar looking Xo1 cassette and chain for an out of this world look. Other parts to round out the build include a favorite of ours the SRAM Guide G2 brakes. These stoppers provide loads of power and are consistent as it gets even on the longest of downhills. Maxxis tires are always a no brainer, even when we've tried other brands we end up back on the trusted yellow letters. A dissector rear and DHF front are the perfect choice for this bike. Roll on by and see this one in person!
Build Specs
Frame Revel Rascal
Fork Rockshox Pike Ultimate RC2
Headset Cane Creek 40 series
Stem Raceface
Handlebars Deity ridgline
Handlebar Tape
Shifters
Brakes Sram guide G2 RS
Seatpost One up
Saddle Anvil
Front Derailleur
Rear Derailleur SRAM GX
Bottom Braket Sram Dub
Cranks SRAM GX Eagle dub
Pedals n/a
Chain Sram XX1
Cassette Sram XX1
Wheels Revel RW30 carbon rims laced to Industry Nine Hydra, XD driver, boost
Tires MAXXIS Dissector/ Minion DHF
Extras TLC from the custom build department at OYLC!