Punk Powder Bike Cleaner – Twin Pack makes 4x litres of bike cleaner!
Some bike cleaners out there have a carbon footprint bigger than the Jurassic Park T-Rex, but not us. Muc-off always looking for new ways to reduce our plastic and water usage along with our CO2 output; so we got cracking on the epic task of developing the ultimate powder-based cleaner! Over three years, they tested and tinkered with hundreds of versions until they landed on the one. Formulated using the latest technological advancements and the finest biodegradable ingredients (75% of which are plant-based!) our newest creation is not only incredibly safe for you and the environment, but also for all bikes and finishes.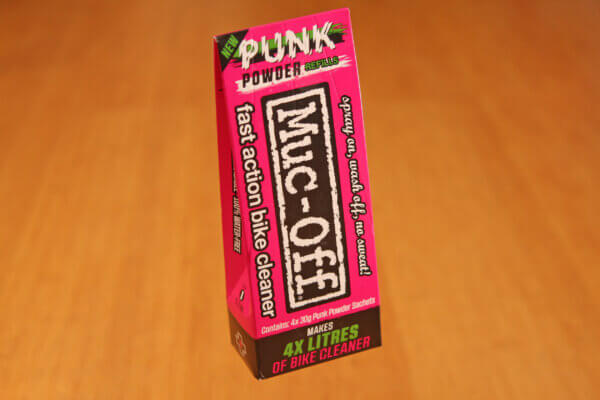 Punk Powder delivers the signature cleaning power you've come to expect, but with readily biodegradable ingredients and 92% less packaging than four of their standard 1L bottles it truly is a guilt-free gleam! The fast-dissolving formula means it's ready for use within seconds of water being added, and if you want to go full eco-warrior you can even use collected rainwater! Simply reuse your old Muc-Off bottle and get busy cleaning – it even works with their pressure washer to create an awesome foam for the fastest clean possible.
From production right through to the powder itself, sustainability is built in. So you can shred hard, with a clean bike and conscience. Punk Powder is the future of bike cleaning – the future is here!