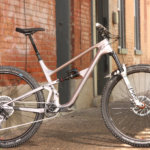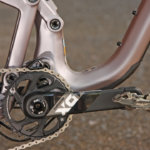 About the Build
When a rider reports back with the excitement of clearing a section of technical trail that they once only got 1 in 5 times on their old bike, you know this is going to be a bike that people love!
For this particular build we started with the Revel Rascal for it's ability to boost a riders confidence like no other. The CBF suspension design is gaining traction in the mtb world at an incredible rate. Originally developed for Canfeild bikes and now licensed by Revel, the CBF focuses on designing around the Center of Curvature and balancing that with the Instant Center. CBF points the chainline and drive forces directly into the IC throughout 100-percent of the travel by balancing the CC over the chainring, resulting in maximum pedaling efficiency, regardless of where you are in the travel, what terrain you are on or what kind of power you're putting down. If you think this bike is fun going up, just wait till you point it down!
As far as the build goes… a Deity cockpit was an easy choice, Sram Xo1 eagle provides endless smooth shifts, and Rockshox suspension soakes up all the bumps. Industry nine enduro 305 wheels will keep this rider rolling through the roughest of terrain. All of these parts were chosen for their solid track effort in hopes of many A+ ride reports in the future!
Build Specs
Frame Revel Rascal
Fork Rockshox Pike Ultimate
Headset Cane Creek
Stem Deity
Handlebars Deity Skywire
Handlebar Tape
Shifters
Brakes SRAM Guide G2 RSC
Seatpost Fox Transfer
Saddle Deity
Front Derailleur
Rear Derailleur Sram Xo1
Bottom Braket Sram Dub
Cranks Sram Xo1 Eagle
Pedals Shimano XT trail
Chain SRAM Xo1
Cassette Sram Xo1
Wheels Industry Nine Enduro 305
Tires Schwalbe nobby nic/ hans dampf
Extras