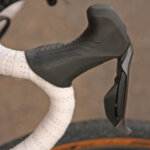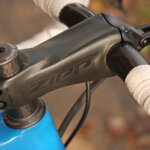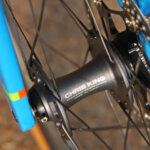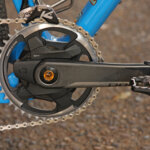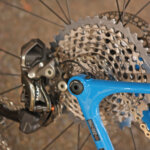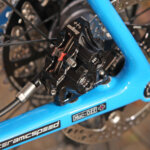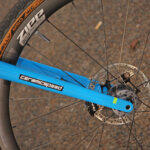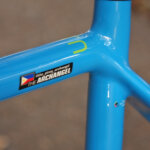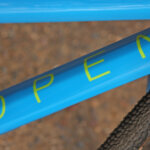 About the Build
Bicycle Cleanliness
A piece by the mechanic for the artist. Gerrod's love for bicycles has grown while having him on the team and this showcases his attention to details. Now one can explain this bike better than the man who built it…
Coming from a road background I have an affinity for drops. As a daily commuter and service tech a few things are key when spec'ing out a bike for myself. Reliability, serviceability, and cleanliness.
Reliability comes down to knowing each and every component has a purpose and can perform said purpose properly. Reliability builds upon the execution and lends to long-term consistency, offering piece of mind that the bike as a whole will hold up. Cleanliness on the other hand gets tossed around all too often. The other two do as well but a truly clean bike is not only visually stunning yet methodic.
At the center of this piece is the OPEN U.P. frameset. This is where all the components are adorned and this is where all the feedback goes, from the rider and the dirt. Nothing quite screams dream bike like the frame itself inspiring you to ride harder and faster. The geometry is spot on for how I want a bike to behave and respond. Being lightweight you would think it is stiff but it is as compliant and alive as it gets when made from carbon and intended for rugged terrain. No cyclocross, gravel, or mountain bike has made me want to stray from pavement as much as this U.P. It has recently even become my rain bike.
Chris King has been my favored go-to as of late. The Portland made headset and hubs are designed to last a lifetime. Any water and grit that gets past the seals overtime just turns into a lapping compound that further polishes the bearings making them faster than they were the previous ride. When getting into cycling ZIPP always caught my eyes but I never imagined being able to ride let alone own some myself. So lacing these hubs up to 303 Firecrest rims was an instant no brainer with them being produced in Indy making this a bombproof wheelset, with some added flair from the color matched Peaty's valves. What goes unseen however are the Vittoria Air-Liners inside the 40mm tires offering better grip and support to the tires while letting me run insanely low tire pressures and still feel comfortable riding over rooty singletrack.
The drivetrain on the other hand is a mixture of both Shimano XTR/GRX Di2 and Sram XX1 11 speed to give me the best of both worlds. To help ensure crisp shifting, CeramicSpeed narrow-wide pulleys are slightly oversized from the stock ones while being stiffer and reducing friction. Red AXS power cranks with X-Sync2 chainring to keep the chain in place in conjunction with the K-Edge chain watcher. The XTR Trail pedals have a larger platform of suits the roadie in me. CeramicSpeed Coated bottom bracket eliminates the potential for creaking and makes each pedal stroke buttery smooth. Hope RX4+ 4-piston calipers make the brakes feel like the road equivalent of downhill brakes.
Topping it off with a full ZIPP carbon cockpit and seatpost alongside Fizik bartape and a custom wrapped Arione 00 saddle. Not sure if I'd ever endeavor to rewrap another saddle but for this build it was worth it. Needless to say this bike is the labor of love, or rather the love for the craft of bicycles.
Build Specs
Frame Open U.P.
Fork Open U turn
Headset Chris King
Stem Zipp
Handlebars Zipp
Handlebar Tape Fizik
Shifters
Brakes Hope
Seatpost Zipp
Saddle Fizik w/ custom top
Front Derailleur
Rear Derailleur Shimano GRX
Bottom Braket Ceramic speed
Cranks Sram Red
Pedals Shimano
Chain Shimano
Cassette Shimano
Wheels ZIPP 303 Firecrest laced to Chris King r45 hubs w/ ceramic bearings, Sapim spokes
Tires Zipp g40
Extras