Where's you next trip… endless laps at the Whistler mountain bike park? Maybe head over to Europe to recreate the Tour de France route? Let us mek your travels easier with an evoc bike bag rental! We charge $80 per week and can weork with you if going longer. Don't worry about renting a beat up bike rental bike, take the one you know and trust!
The EVOC Bike Travel Bag is ready for all of your trips by plane, car, train or boat. Better still, your bike can be stowed safely within the bag in just minutes. Only the handlebar, pedals and wheels need to be dismounted. A clever belt system inside the bike bag keeps all parts held firmly in place while the robust padding and rubber reinforcements protect fragile components such as the drivetrain, fork and dropouts. EVOC's reinforced wheel pockets offer enough room for hefty 2.8″ chubby tires as well as increased structure to the bag itself. The wide footprint provides stability while the smooth-running wheels and conveniently placed handles make the EVOC Bike Travel Bag very easy and comfortable bike case to use.
For many years the Biked Travel Bag is our approved solution for transporting almost any type of bike. As a hybrid construction it combines the advantages of a hard shell case with the properties of a soft bag.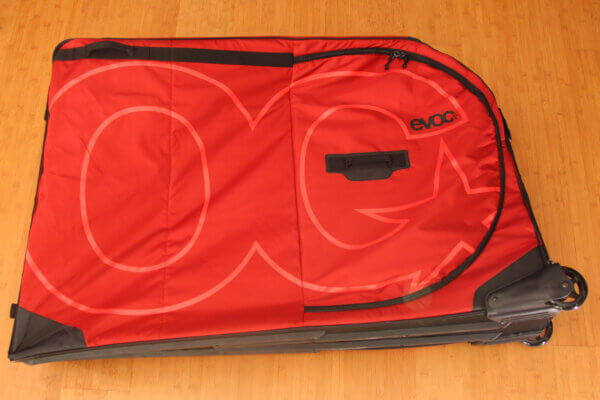 Features
Complete protection for your ride
Fits mountain (Yes, 650b and 29'ers too!), road, time-trial, cyclocross, and triathlon bicycles
Packs in minutes
Robust system for securing frame and fork
Integrated padding for drivetrain protection
Two padded wheel compartments
Heavy duty nylon-ripstop with 10 mm paddin
Abrasion resistant panels in high wear areas
Smooth inline-skate wheels with sealed bearings
Stable and easy to use